Bass Fat Boy Wacky Worm 128mm / 5″ – as the name suggests, this lure has been designed for the most popular rigging system in bass fishing, the Wacky Rig. Its unusual shape, which attracts the attention of fish even more than standard lures, and a specially designed slot for the rubber band will allow us to present the lure with finesse and effectively catch even the most cautious fish and effectively catch even very cautious and inactive fish. The material used for the BASS series lures has been made stronger, which ensures greater durability of the lure and a lifelike action of the lure underwater. Not only bass are fished with this type of lure, it is a very effective lure in the drop shot method when fishing for zander.



MODEL




SIZE/LENGTH

(mm)

PACKAGING / JAR (pcs)




SCENT / TASTE

BASS FAT BOY WACKY WORM

128

8

KRILL
The BASS range of baits is based on a new blend called ,,Salt Worm Project".
It has been designed with a salt base that contributes to the appetising and aroma of the krill.
The material is very soft and strong, providing a lifelike action to the lure, created for finesse presentations to fool the most difficult to catch fish.
REINFORCEMENT SUGGESTIONS FOR BASS FAT BOY WACKY WORM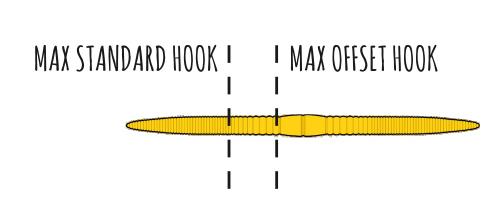 SIZES OF HOOKS AND SUGGESTIONS FOR LOAD WEIGHT
BASS FAT BOY WACKY WORM 128 (5")
FISH
Bass, zander, perch, huchen, sea trout, salmon, brown trout, rainbow trout.
FISHERIES
Rivers, lakes, ponds, artificial reservoirs water, canals.
SCENT
Krill - recommended mainly for fishing wild fish in large rivers and fishing for predators such as perch, zander in dammed reservoirs, lakes.

TASTE
A mix designed with a salt base that enhances appetisation.
TACKLE
We choose depending of the technique we want to present the lure with and the species of fish we want to catch. The basic tackle recommended when fishing for bass is a casting or spinning rod 210-240 cm long with a casting weight of up to 21-35 g, which will bent properly but will also be fast enough. A delicate, subtle tip with which we can finesse fish will help us to present the lure effectively and naturally underwater and provoke wary bass to attack. When fishing with soft lures and the contact of the lure with the bottom, we use reels or multipliers with a large gear ratio. This allows us to quickly reduce excess line and not miss delicate bites when presenting and guiding the line. Another important element is the main line. It is recommended to use fluorocarbon with a maximum strength of 9 kg for soft lures because of its parameters. It has much higher abrasion resistance and does not absorb water like monofilament. Another advantage is its low stretch and optical density, which makes it much harder to see under water.